Winner of the 2016 Moon City Press Short Fiction Award (2017)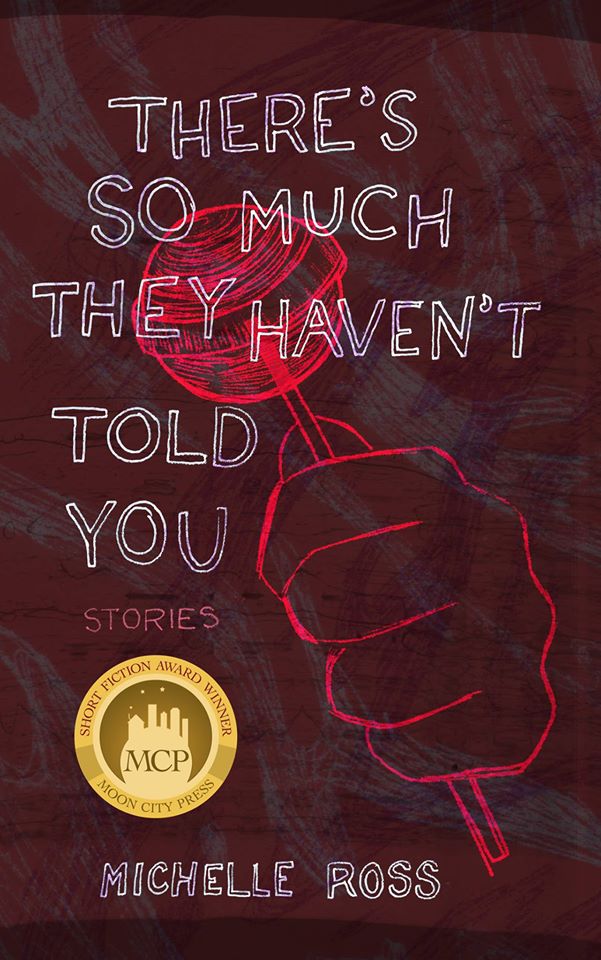 Available at University of Arkansas Press, Bookshop, Amazon, and elsewhere.
Praise
"Beneath their placid surfaces, Michelle Ross' stories ripple with strangeness and wonder. The familiar curdles and begins to taste unfamiliar, sometimes over the course of a few deft pages: a lost baby tooth becomes a haunting presage of mortality; a teenage girl bonds with her troubled mother over their mutual love of slasher flicks; the doll of a miniature man comes strangely alive—or so two aging women believe—and has to be drowned. Ross is a compelling new voice, and we're lucky she hasn't told us everything yet." — Eric Puchner, author of Last Day on Earth
"Oh my god, read this book. Michelle Ross taps in to deep cultural archetypes and gritty contemporary realism with equal shimmering, razor-edged aplomb. She simply owns the page, with a voice, vision, and urgency that stands out from the crowd. There's So Much They Haven't Told You is a literary and emotional event." — Gina Frangello, author of Blow Your House Down
"Whipsmart and lightning quick in their prose, these stories dance along the same razor's edge as us all, balanced between everyday life and the outlandish, absurd, and sobering certainty of its end. Michelle Ross is an important new talent, a companionable, wise, and often funny voice for these troubled times. I will be eagerly assigning this book to students and pressing it into the hands of my most devoted reader friends." — Robin Black, author of Life Drawing
"Michelle Ross has written a gorgeous collection. These stories show us how deep and necessary our human connections are—even when we are struggling against each other. Ross delivers tour de force storytelling in every powerful story, transporting readers to places that are both intimately familiar and otherworldly. Brutal, beautiful and revelatory, There's So Much I Haven't Told You is a book that will grab hold of you and not let go." — Dana Johnson, author of In the Not Quite Dark
"In There's So Much They Haven't Told You, Michelle Ross balances the orderliness of the universe with the chaos of the natural world. Here, lessons on particles and black holes and light serve as a disguise for the collection's greater lessons on what it means to be human. Over the course of twenty-three haunting stories, families face unfathomable violence, couples are brought together and quietly torn apart, and children learn, at last, to see their parents for who they really are. With a fearlessness and creepiness that put me in mind of the fiction of A.M. Homes, these stories astonish." — David James Poissant, author of Lake Life
"Ross' collection is packed with slim, powerful pieces of literature – and she specializes in the things we do to one another. These are bright, beautiful, difficult stories – the kind I want tattooed on my skin." — Amber Sparks, author of And I Will Never Forgive You
"These are stories about universes, big and small. The universe of planets and black holes and the unknowable universe of another person's heart. Ross' characters are always learning. The information they come to sometimes enhances them and sometimes repels them, and often shakes them to the core. I learned some things as well in the time I spent with these pages. Not just about bus accidents and taxidermy, but about the sullen, tender, joyful chaos that connects us to one another." — Aubrey Hirsch, author of Why We Never Talk About Sugar
"Michelle Ross' exceptional first collection of short stories, There's So Much They Haven't Told You, traffics in dark matter, the murky material that we sense but cannot see, the unconscious and peripheral parts of life that affect us as surely as the parts we recognize as real and concrete. In the uncomfortable spaces of a woman trapped (literally and metaphorically) in a soul-crushing job, another hiding from a shooter (real? imagined?) in a closet full of six year olds, a girl playing serial killer/victim with her mom, or a family fighting over the cremated remains of a loved one at the rattlesnake roundup, Ross digs down to find truth — never afraid of the dirt and grime that, ultimately, give way to moments of grace. Her scientific eye for detail, humor, and humanity blend in stories that are grotesque, compelling, and deeply affecting. An astonishing and accomplished debut." — Alison Umminger, author of American Girls
"These stories bristle with hard-eyed awareness and cut to the bone. With imagery from horror movies, fairy tales, and aquariums, Ross evokes the comfort and squalor of family love." — Kathleen Founds, author of When Mystical Creatures Attack!