Winner of the 2020 Stillhouse Press Short Fiction Award (November 2021)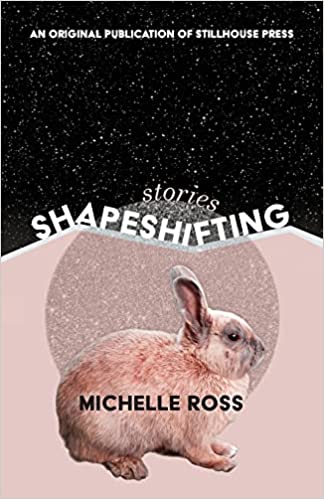 The fourteen spellbinding stories in Michelle Ross's second collection invite readers into the shadows of social-media perfectionism and the relentless cult of motherhood. A recovering alcoholic navigates the social landscape of a toddler playdate; a mother of two camps out in a van to secure her son's spot at a prestigious kindergarten; a young girl forces her friends to play an elaborate, unwinnable game. With unflinching honesty and vivid, lyric prose, Ross explores the familial ties that bind us together—or, sometimes, tear us apart.
Order from Stillhouse Press
Praise
"Michelle Ross's Shapeshifting is a book of startling transformations, of becoming unrecognizable to yourself, and, even more unsettling, of seeing yourself through the eyes of others. In writing that is deadpan funny and deeply perceptive about familial relationships, Ross writes so beautifully about the strangeness of the world, of making a life within the absurdity and hoping you survive it. An incredible collection." — Kevin Wilson, author of Nothing to See Here
"Here are motherhood stories of the kind I crave, hilarious, skewering, tragic, and huge-hearted, following only their own rules. Nothing is sacred here–the wondrously particular, memorable mothers in these pages are allowed all their human dimensions. Michelle Ross has written a sharp, moving, immensely satisfying collection." — Clare Beams, author of The Illness Lesson
"Shapeshifting suggests that the struggle to know how to love children and how to let them go may feel similar at the pediatrician, in an abandoned laboratory, or trapped in the life you've chosen, but Ross renders those settings and the characters who inhabit them in such vivid detail that each story feels like its own new world." — Danielle Evans, author of The Office of Historical Corrections
"Leave it to Michelle Ross to encapsulate the erasure of motherhood in a single sentence: 'Now that the baby was no longer inside her, Deena felt like discarded wrapping paper at a birthday party.' Lucky for us, SHAPESHIFTING is pregnant with lines like this one. With her new collection, Ross once again demonstrates her surgical precision and scientific mastery as she excavates the divide between bullshit expectations and harsh realities of motherhood. Here is a writer who does not gloss. The roles of women are brutal. There is no shortage of blood. But beneath the social dictates pumps a primal current, to which her characters latch, however desperately, as a reminder that we are all, at our core, nothing but messy, instinctual, glorious animals." — Sara Lippmann, author of Doll Palace
"Don't let the smooth prose fool you: these stories have teeth, tearing at our sacred myths of motherhood and womanhood and partnerships. Michelle Ross captures female anxieties and resentments and courage to be in the face of it all like nobody else. Shapeshifting cements her place as one of our sharpest story writers." — Jennifer Wortman, author of This. This. This. Is. Love. Love. Love.
"Ross's characters unwittingly triumph in their capacity as mothers to survive their own choices while seeking to protect–and overcome–their offspring. She slices through sentimentality and delivers what's closer to the truth of parenting. Through clever imagery and precise language, each story illuminates the sometimes rewarding, often painstaking, task of buoying our children while keeping our own heads above water." — Sahar Mustafah, author of The Beauty of Your Face
"Michelle Ross writes with biting clarity about motherhood, womanhood, and the strange intensities of human connection. Her stories investigate terrifying closeness and tender estrangements — and never take you where you think they'll go. A moving and emotive collection." — Siel Ju, author of Cake Time
"Motherhood often gets idealized as 'transformative': Michelle Ross's hilarious and harrowing collection Shapeshifting explores the monstrous nature of that transformation. What happens to one's self when one 'becomes' a mother? In Ross's stories, being a parent is in turns selfish, cruel, tragic, terrifying, clinical, petty, and soul-sapping. Wives resent their would-be prophet husbands less for believing themselves 'chosen' than for shirking all family responsibilities; mothers fret about the size of their toddler's penises and ruminate, 'all children are experiments—messy, uncontrolled, long-term experiments.' Shapeshifting is a wry, fearless, extremely funny, flat-out dazzling book." — Kim Magowan, author of The Light Source