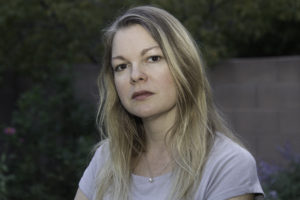 Michelle Ross is the author of There's So Much They Haven't Told You (Moon City Press 2017), winner of the 2016 Moon City Press Short Fiction Award and Finalist for the 2017 Foreward INDIES Book of the Year Award for Short Stories. The collection was also runner-up for the Juniper Prize in Short Fiction and a finalist for the New American Press Fiction Prize and the Leapfrog Press Fiction Contest.
Her fiction has won prizes from Gulf Coast, Main Street Rag Publishing, and Sixfold. Her fiction has also appeared in Colorado Review, The Common, Hobart, Epiphany, Electric Literature's Recommended Reading, TriQuarterly, and other venues.
She is fiction editor of Atticus Review and was a consulting editor for the 2018 Best Small Fictions anthology.
A native of Texas, she received her B.A. from Emory University and her M.F.A and M.A. from Indiana University. She currently lives in Tucson, Arizona, with her husband and son. She works as a science writer.